Welcome to Seiffen –
Welcome to the Weiß Family!
Welcome to our family-run Seiffen hotel – richly traditional address filled with attentive hosts ready to treat you to a wide range of enticements and attractions as well as personal service all year long.
We are family-owned and always personally here for you. The friendly face behind our Reception desk is my own wife, Regina. I myself was the chef here for many years before assuming the role held by the former owners. Our daughter Laura literally grew up in this hotel and is still a big part of its daily operation to this day.
We look forward to welcoming you to the Hotel Erbgericht Buntes Haus and helping you arrange a most unforgettable holiday in the Erzgebirge mountains!
Sincerely,
The Weiß Family

Fresh-to-table cuisine
A first-class kitchen is the gastronomical hallmark of the restaurant at Buntes Haus – no wonder, since hotel owner Ronny Weiß himself learned from scratch while training as a chef. He earned his credentials in top international hotels and restaurants – as did his current head chef.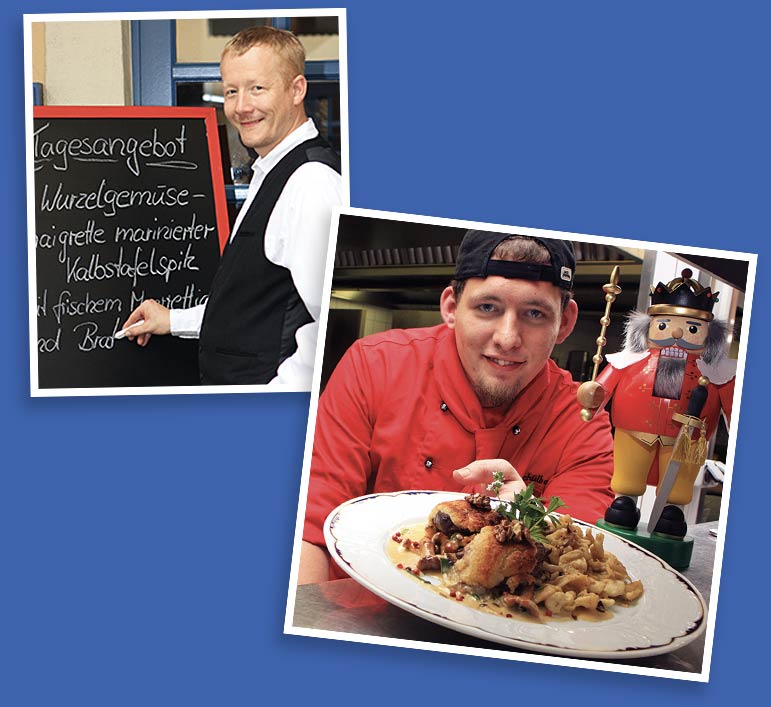 Arrival/Departure
Arriving by car
From the A4 Siebenlehn junction: Take the B101 toward Annaberg-Buchholz. After approximately 20 km (13 mi), turn left in Großhartmannsdorf toward Sayda/Neuhausen. Once in Neuhausen, follow the signs to Seiffen.
From the A72 Chemnitz Süd junction : Take the B174 toward Marienberg. Once in Marienberg, take the B171 toward Olbernhau and from there, follow the signs to Seiffen.
Arriving during Advent
On the four Advent weekends, access to the hotel is only possible via Neuhausen.
Arriving by rail
Take the Erzgebirgsbahn railway to Olbernhau-Grünthal. Hotel shuttle service available by appointment.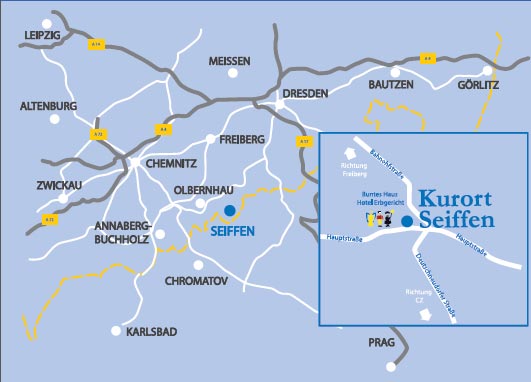 Buntes Haus – Hotel Erbgericht Seiffen
Hauptstraße 94 • 09548 Kurort Seiffen
buntes-haus@erzgebirgshotels.de
fon +49 (0)  3 73 62 . 77 60
fax +49 (0)  3 73 62 . 7 76 60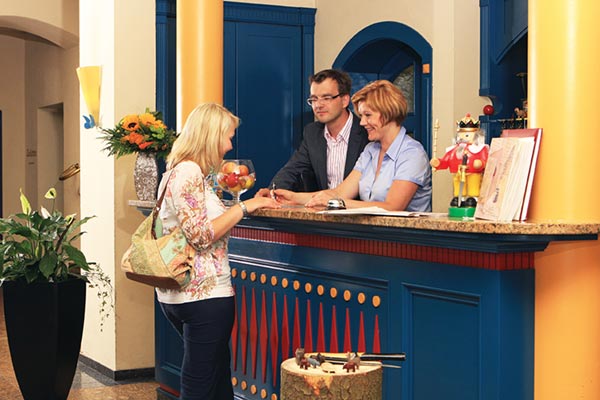 We are looking forward to your message!
A mulled wine stand and food stalls are set up right in front of the hotel in the weeks leading up to Christmas. So, in the truest sense, the wonderful Christmas bustle comes right to our door!

Satisfied guest, www.holidaycheck.de
Many of the area's attractions are within walking distance: summer toboggan run, museum, countless shops featuring original car vings, exquisitely maintained outdoor swimming pool in the neighboring village.

Steven, www.ab-in-den-urlaub.de
We had a room with a wonderful view of the Seiffen Church and the surrounding romantic setting. Welcome gift. Tastefully appointed hotel. Breakfast was very good, great variety. Excellent dishes in the restaurant.

Uwe-Karsten, www.booking.com